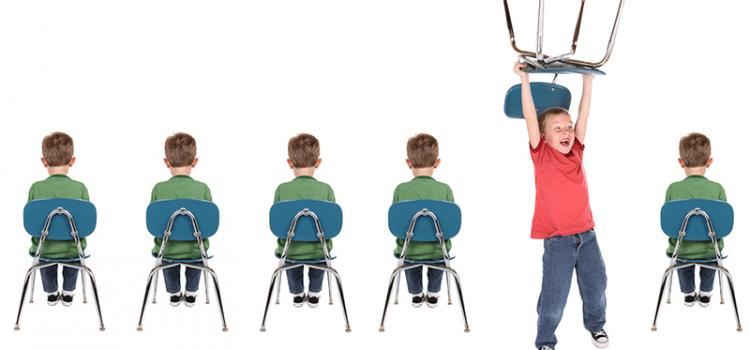 Do you want to have more co-operation or more control in class?
On my first day with Ms Lardy's class she called me into the corridor just before the lesson.
"You've got to watch out for Lenny!  He's the most attention-seeking boy in the school. You mustn't encourage him. Don't give in to him".
"Yes, miss", I said with a poker face. 
My approach was in fact completely the opposite. I reasoned that if I could meet Lenny's need for attention then he wouldn't need to use any of his 'look-at-me!' routines. These routines (which I have heard described by various professionals as strategies, scams, ploys, and rackets) were ones devised by a boy with limited intellectual capacity to help him meet this need. Surely, I could find a better way...
I tried to give every child in the class attention at some point in the lesson but for Lenny's sake I introduced my own 'racket' - the greet-with-a-handshake routine.  I greeted all the children as they filed into class, shaking hands with a random selection and making a cheery comment to a further handful.
But I always shook Lenny's hand and I always passed a comment.
"That's a nice jumper you're wearing, Lenny."
"Hey Lenny, how's mum today? Is she better?"
The fact is I never, and I mean never, had any problems at all with Lenny seeking attention during class time. And when it came to planning the school concert I could draw on the very positive relationship I had with him to channel that love of attention into a barnstorming solo performance of 'Little Donkey'. 
All the children enjoyed the very positive start we made to each lesson, as well as not having to endure the interruptions and negativity which his previous ploys had caused.
And I enjoyed being nice and being liked and, yes...  feeling that I had solved a problem the more experienced teacher hadn't.  I felt good – like I was doing something worthwhile, and not grinding out the day.
Economically speaking, I invested about 30 seconds per lesson ensuring I was free from any Lenny-related obstructions to lesson delivery.  I chose this over control measures.  The time wasted reprimanding and 'dealing with problems' (when I wanted to be relating to the pupils) would have been far greater without that initial investment.
My point is that relationally-based strategies take time, thought, and creativity. But ultimately, they yield greater benefits, more economically.  They are wholly positive in intent, seeking the voluntary participation of others - and generate positive spin-offs. And they reduce the risk posed by unintended consequences of our actions.  Control measures are horribly prone to unintended consequences.
If this makes sense to you...
This approach is based on sound psychological principles. It is an approach and not a method because it describes:
a different way of looking at the challenges teachers and professionals working with children (and adults with additional needs) need to resolve. 
a different way to communicating
a different way to deal with social harm
We call these approaches Relational Approaches. Because they apply to our professional perspectives and how we conduct ourselves from within, they can be used in many dfiffernt work settings.
Relational practitioners: 
focus on relationships not behaviour
treat all social and antisocial behaviours as communications, which convey meaning.  
deal with social harm restoratively.

Comments
Copyright and usage
The content of this article may be used only for non-commercial purposes under the following conditions
.1 Teaching children or training staff in-house
The content must be acknowledged as the work of Dr Adam Abdelnoor
Any resources used should be used unedited or altered in any way.
2. For other non-commercial activities
The content must be acknowledged as the work of Dr Adam Abdelnoor
Any resources used should be used unedited or altered in any way.
Any quotes references or other usage should be attributed to the author and cited as follows: 
Dr Adam Abdelnoor, 2018, The relational approach: user guide and manual (submitted manuscript)