This poster reminds  us that the rules are owned by the school, not by any individual. They apply to children and to adults. In fact, most of the rules are those governing the staff. In practice, those applying to the children also apply indirectly to staff, because they are required to apply the rules in the specified way.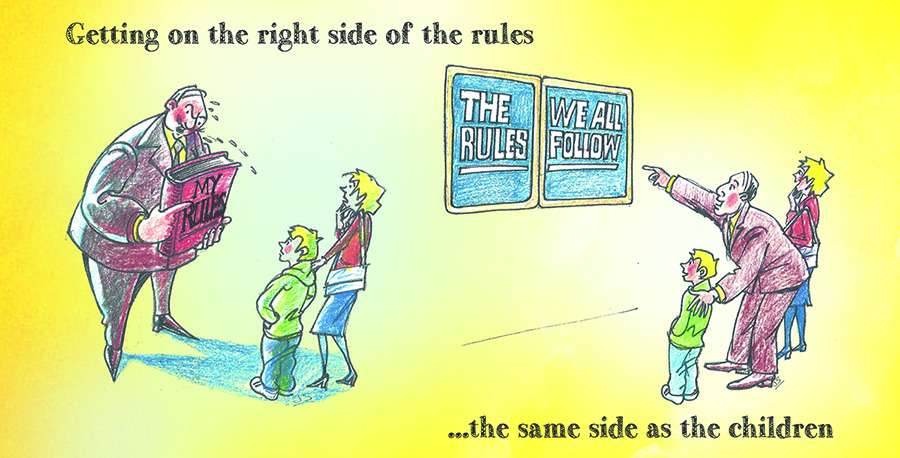 There are many important lessons we can learn from this poster. No-one is like the first teacher – it's obviously a caricature - but all of us can have bad days.  And for children, the caricature may seem more 'true to life'.
Children are easily scared, and like grown-ups they hide their fears in all sorts of ways.  There is an important difference in emotional content between the two caricatures. But there is also a difference in style.  The teacher on the right side of the rules understands that children are more likely to keep rules when the reason behind the rule is explained to them.
Although it's not 'in' the cartoon, it's always understood: Children whose basic needs have not been met are not ready to learn about rules (or anything else), so being on the right side of the rules will not solve the problem.
Key points
Our rules belong to the school, and apply to adults and children alike.
No-one is like either caricature all the time - everyone has moments when they get on 'the wrong side' of the rules.
We need to acknowledge our feelings and find safe ways to communicate them to children.
We need to understand the value and purpose of each of our school rules so we can teach them effectively to children.  
We should always consider whether the children's conduct results from unmet basic needs and respond accordingly.
This poster shares a message teachers and children can respond to positively. It can be used for staff professional development and in the classroom, within the conduct, relationships, and PSHE curriculums. 
Free professional development activity pack
The free professional development activity pack provides
A guided discussion plan expanding these key points to promote fresh thinking, renew staff motivation and enthusiasm, enhance the school ethos with a sense of mutual endeavour, and improve the well-being of staff and children.
Lesson plans for infant, junior, and lower secondary-age children.  
The activity packs come with the poster.
After you've delivered the CPD/ lesson activities, you can keep the poster on the staff-room wall (and in the classroom) as a discreet reminder.